Kosovo Trip After Action Report
By Col Vincent P. Reefer
18-22 May 2004
Iowa has a 350-man taskforce, 1-113th Cavalry, Operating under the 34th ID Brigade task force that is patrolling the U.S. sector. The entire brigade taskforce is about 2,000 Guard troops from eleven different states. About 70% of the troops are from Iowa, Nebraska and Minnesota. We have two base camps, Camp Bondsteel, the Division HQ and Camp Monteith where most of our troops operate out of. Monteith is right on the edge of a major city called Gnjilane, pronounced JULAN. Population 100,000. My son Zach is a medic with the Cav and my boss Maj Gen Dardis invited me along for a command visit.
The province of Kosovo is still a designated 'hostile fire zone' so the troops get combat pay as well as tax free income. Back in March, they earned it when the Albanians and Serbs rioted killing nineteen and burning several villages. We took no serious casualties, only cuts and bruises from flying rocks and bricks. (see photos below) Anyway, things were peaceful when we arrived.
18 May 04, we flew out of Lincoln, NE on a KC-135R tanker direct 8.5 hours to Frankfurt, lost seven hours in time change, and landed before 0600 on the 19th. Our flying fuel tank was comfy as long as you kept your feet off the floor, which is sub-freezing. My sack lunch and water was frozen solid when I decided to have lunch.
We took a short buss ride to Wiesbaden to catch our C-12. Talk about a small world, while waiting for our plane in Wiesbaden, I ran into a fellow Nam Vet and Iowa Aviator, CW4 Ron Snyder. Ron is living in Wiesbaden on a nine-month tour flying C-12s. He and I flew scouts together for three years in the 248th Aviation Battalion and later Hueys for the 34th ID.
Serbia wouldn't let us fly though their airspace, so we had to take the long route over the Italian Alps and down the coast of Italy, across the Adriatic Sea through Albania. What should have been a 2-hour flight, took us 4 hours instead. From the Pristina airport, we took a 2-hour bus ride, with an armed military escort, to Camp Bondsteel. The country itself is characterized by rolling hills, snow capped mountains and dotted with numerous farming villages. Under 60 years of communism, each family was assigned 10 hectares of land (22 acres) as part of the collective farming system. Today, the same families own the same 22 acres and their farming methods are primitive. They plant their wheat and corn by hand, cultivate with a hoe and harvest with sickles and rakes. I only saw three or four beat-up tractors. Basically, the rural folks live in poverty.
At Bondsteel we were briefed by the task force commander, BG Rick Erlandson, from Minnesota. Keep in mind that these base camps were built only four years ago after the war and from the air it reminded me of Camp Eagle. Of course the facilities are much nicer once you're on the ground. The troops live in 4-man hooch's with concrete bunkers close by. The showers and shitters are separate buildings, but have modern plumbing and hot water. AND you can drink the water right from the tap, supplied by a 1,200 foot deep well and purified by reverse osmosis. Its as good as bottled water. They have plenty of creature comforts, a free post theater with 25 cent bags of popcorn, a chapel, a modern gym as nice as any fitness club, a large PX that has everything, several snack bars, a pizza shop, barber shops, sandlot volleyball courts, baseball diamonds, horseshoe pits, a Burger King, and get this….a Message Parlor right next to the Gym. I wondered if it is as good as the one we had at Phu Bai? So the troops have plenty to do when they're off duty.
At 16:00 we were guided to our quarters to rest up and wash up for dinner. The mess halls were great. They are contractor operated using local civilian labor and the food quality and variety was great. The buffet always had beef, ham, fish and chicken, a wide variety of veggies, large salad bar, ice cream bar, desert bar, or you could go through the sandwich line. Since Kosovo is a hostile fire zone, alcoholic beverages are prohibited. I guess the Army learned their lesson from us Nam vets.
By the end of our first day, I had lost track of how long we had gone without sleep. After a big dinner we were guided to the VIP quarters and crashed at 19:00.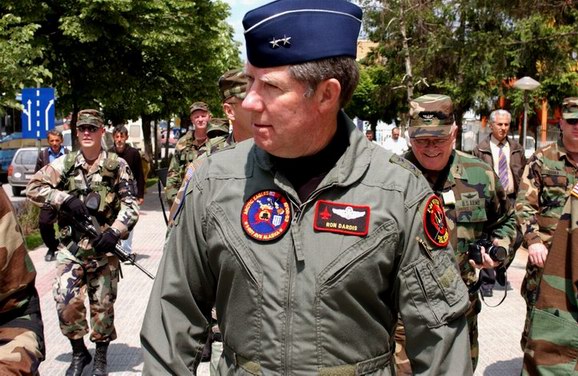 Maj Gen Dardis, back left Spec Zach Reefer and back right Col Vincent Reefer
On the 20th a 0600 wakeup, a lumberjack breakfast and we were on the helipad at 0730 for an aerial recon of the U.S. area of operation. My son Zach was one of 8 soldiers assigned to us as a security detail and we got to ride together in the back of the Blackhawk . After a one-hour recon, we landed at Camp Monteith where my son is stationed. We then took a walking patrol through the city of Gnjilane (pop. 100,000), which is just out the gate of the base camp. The city appears to be a typical European city with a few late model cars and lot of junkers too. What you notice right away is that there are men of all ages just sitting around. The unemployment rate is 70%.
Our security detail was locked and loaded since it isn't very often that a two star general takes a walk through town. We got to take a look at some of the burned out / bombed out Serbian neighborhoods that resulted from riots two months prior. It looked like a typical war zone. Brick homes that had been blown up and burned. The people seemed friendly though and quite used to seeing armed US troops walking their streets.
Next we traveled by van out to some rural farming villages for another walking patrol to visit some of the security outposts and talk to our troops on duty. Quaint little villages with homes of white stucco, brick and red tile roofs. Most have a barn attached to the home where they keep their livestock and a little vegetable garden in their yards. These people live in poverty. They must have no garbage collection, since there was garbage everywhere. The sanitary sewer system consisted of an open ditch running through town with the homes dumping into it. The smell reminded me of Nam.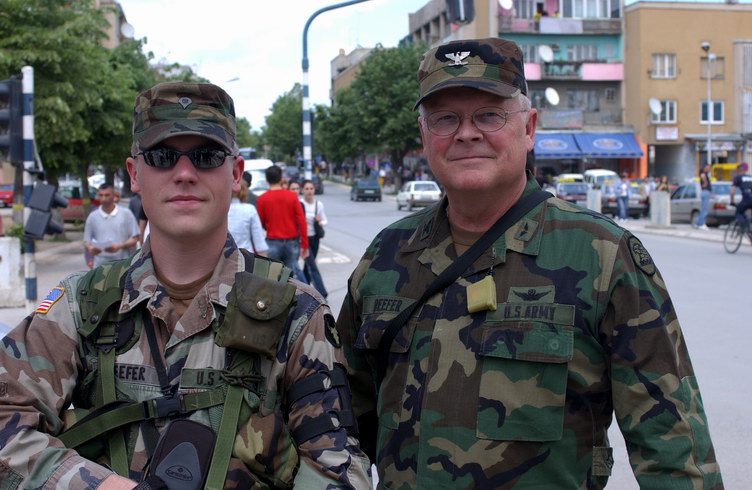 Spec Zach Reefer and Col Vincent Reefer
As with most Balkan countries, the children are being taught English in the schools, and like every foreign country we've been too, American GI's attract kids. The kids come running everywhere we went wanting to try out their English. Of course they were also looking for handouts of candy, gum, pencils and pens. One little boy even knew my son by name and yelled out "hello Zach, lets play football" (soccer). I have photos of my son carrying his M-16 while out playing soccer with the kids. Pretty comical.
We again walked though some villages that had been leveled by the '99 war and talked through interpreters to some of the locals who explained to us how entire families had been executed by Slobodan Milosevic's Army. Most of the mass graves have now been discovered, but there are still several thousand Albanians not accounted for today.
After a long day, we drove back to the Camp Monteith mess hall where our 1-113th Squadron Commander put on a nice diner reception for us, great food, no booze of course. My Boss, MG Dardis, addressed the men to let them know how proud we are of the job they are doing. Of course I told my son the same and how anxious we are to have them all come home. They will have been deployed a couple weeks shy of a year by the time they return in September.
At about 21:00 we jumped back on the Blackhawk for our 20-minute flight back to Camp Bondsteel. Zach got permission from his commander to ride back with me, which meant he would have to take a one-hour bus ride back to his duty station.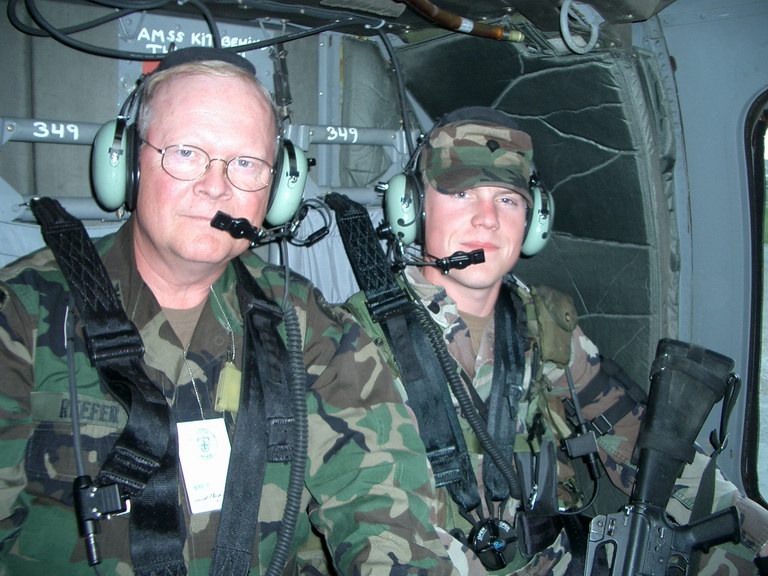 Col Vincent Reefer and Spec Zach Reefer
But it was great. How many fathers ever get to travel to a foreign country and visit their son while he's deployed in a hostile fire zone, spending the day on patrols and flying around in a Blackhawk together. I know it's an experience I will always cherish. I'm a very lucky and proud father.
In closing, I must say that all of our troops are doing a great job over there. I observed nothing but true professionalism the entire two days on the ground. Morale is high and the U.S. Troops are highly respected by the Kosovo people. Your heart goes out to them as they struggle to develop into a free democracy after 60 years under communist rule. Their economy is a mess and it may take another generation for the Serbs and Albanians to learn to live in peace. Like I said, we still have 2,000 troops stationed there, all National Guard. When Iowa and Minnesota packs up in late August, the Ohio Guard takes over the mission. Ohio's Jump TOC has already arrived for orientation training.
If it were my decision, I'd turn the whole mission over to France and Germany since it's in their back yard. But you know they'd screw it up.
Vincent P. Reefer
Comanchero 23, 8-71 to 2-72
VINCENT P. REEFER
COL, Iowa National Guard
State Quartermaster
Here are some more photos of the riots that took place two months earlier in the same city we were in.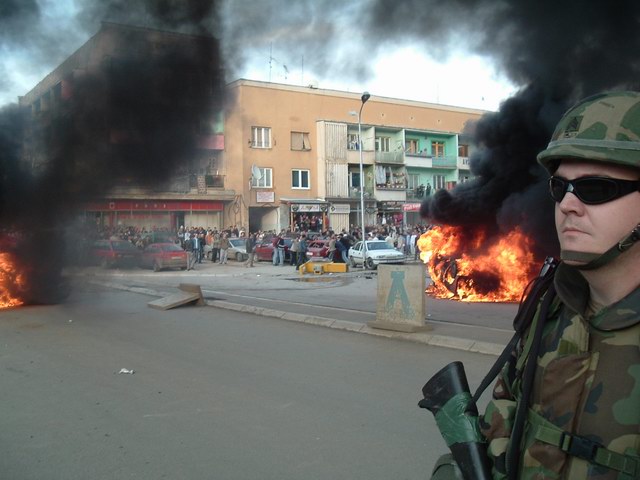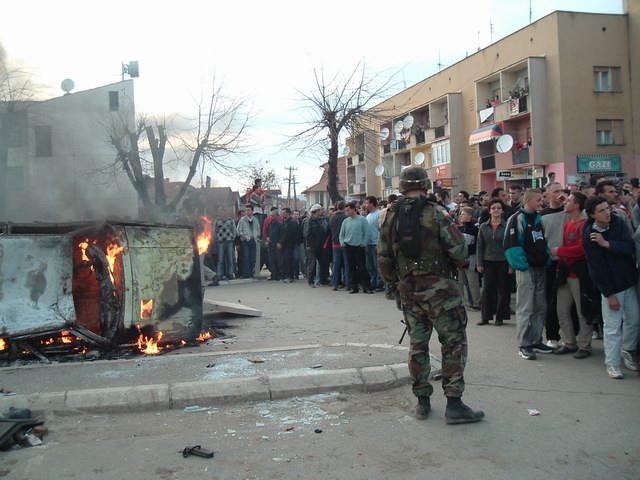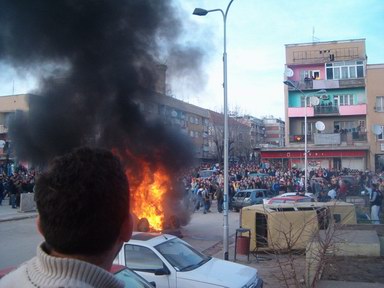 © All Stories and photographs are under copyright to the authors and may not be copied or used in any matter without the permission of Author. All Rights Reserved.
Copyright © 1998-2004 A/101 AVN. All rights reserved.
Revised: 07/09/04.
[Home] [101st Aviation Battalion History] [A trip to FSB Rockpile] [Richmond] [BBQ Deer] [BOOM BOOM] [The Boot] [Bug Eater] [CCN 1970] [The Counter Terrorist Raid] [Cyclic Climbs and Airbursts] [Miss America and Dan Feezell] [FLY DELTA'S BIG JETS] [Hideout Hog] [The Hand] [A/101 and Hamburger Hill] [The Hog] [A Hot Extraction] [Kosovo Trip After Action Report] [Jump Over to the Other Side] [Just say it was the Comancheros] [Raid on the Danang Deep Water Pier] [The Long Journey Home] [LZ LOLO, Lam Son 719] [LZ LOLO 03 Mar 1971] [Recollections of Lam Son 719] [Pilots I flew with] [A Reading from the First Book of Rucker] [Night Mission and Milo's Tower] [Summary of September 14, 1970 CCN mission] [UFO] [SOG HALO Extraction] [The Spring of 69 was an exciting time to be a Coma-Coma-Comanchero] [Stormy Weather] [VI TANH 1965] [Weird Harold] [Aviation songs that were sung by Crewmen] [Poems submitted by Veterans]