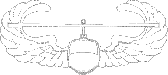 A Message from a former A 4/101 AVN, Comanchero 06
Comancheros of the past, present and future,

My name is CPT Jason M. Halloren; Comanchero 06 from May 98/Nov 99. I recently learned of this particular page and felt it my duty to provide an update on what's happening in A/4-101. The Comancheros today, as they always have been, are the best that Army Aviation has to offer and continue to set the standard. Some might say that I have a biased opinion because they are my soldiers but other peoples words paint and even brighter picture:

"Those (Comancheros) set the standard... that's the way it should be done!"
-Ft Campbell Garrison Commander

"I sure am glad the Comancheros are flying us... I know we'll be in the right
place at the right time."
-3Bde Scout PSG at AMCM

"So you're Comanchero 6... I want to shake your hand, you guys always give us
great support."
-187 IN BN S3 during BDE AASLT AMB

"They set the standard for the Army"
-DES Team chief at Division outbrief

I could go on and on about the praises the Comancheros receive on a regular basis. In recent history we have deployed to Kuwait for Operation Southern Watch, deployed to Central America for Operation Apoyo Fuerte (the Hurricane Mitch relief effort), they leave a light on for us at the CTCs because by Oct of this year A/4-101 will have participated in 20% of all rotations ARMY Wide over the past 18 months. The results are always they same... perfection. On our last AASLT a week ago we were +3 seconds, +/- 0 meters. That's not luck, that's not wishing... that's the Comancheros

In light of the Comancheros' vigilance to excellence, the need arose for a new patch. A patch that combined yesteryear's history with today's technology. Enter the patch designer, SPC James Hoffman. While deployed to Central America I asked him for something that combined the tailboom's red diamond with a modern Comanchero. Aircraft were to be present but the focus was to be the Comanchero. What he delivered was in my, and the rest of the Comancheros opinion, perfection. It is Bold, it is bright, and it typifies the Shoot' em In The Face attitude that has come to be synonymous with precision Air Assault operations.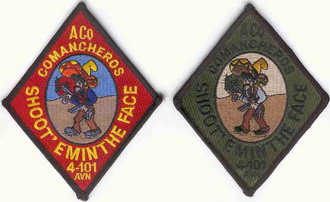 So enjoy the new design and as always SHOOT 'EM IN THE FACE!
Jason M. Halloren CPT, AV
Past Commander A 4/1101
[4-101 September 2004 Newsletter] [Maj Gen David H Petraeus] [Bush Lauds 'Screaming Eagles' in Visit to Fort Campbell, KY] [Secretary Rumsfeld Visits Ft. Campbell Sept 15, 2004] [A 4/101 Avn June Newsletter] [2mcommanchero] [4/101 Avn Memorial] [1LT Jeremy L Wolfe Memorial Bike Run]
This site was born 12/08/98. Thank you for your visit to our web site, you are Visitor #
This site is best viewed in 800X600
© The photos and written material on this web site may not be published or used for any other use, other than viewing on this site, without written permission from the Webmaster and the contributor. All photos and written material remain the personal property of this web site and itís contributors.
DISCLAIMER: Items used on This Web Page are drawn from sources all over the WWW, including FTP sites. Some images have been scanned from books and magazines. If information is known about the originator a credit is placed near that item, otherwise if you are the author or photographer and do not want it shown or listed, please advise me and it will be removed. None of these items are being sold. No copyright infringement is intended.
Web-master: Richard A. Bittle

Comanchero Door-Gunner 12/70 - 10/71
Copyright © 1998-2004 A/101 AVN. All rights reserved. Revised: 09/15/04.