<![if !vml]>

<![endif]>4-101st AVN REGT
Volume 1, Issue 2                                                                  1 NOV 2005
FROM THE COMMANDER:
Wings of the Eagle Families,
Where has the time gone?  The last month has been a blur as we completed our right and left seat rides with 1-189 Aviation out of Helena, Montana.  The flight companies have begun to hit their stride with mission support across the entire country of Iraq.  The pace is incredible.  The battalion is currently averaging over 80 hours of flying everyday and as I type this letter, we will have gone over 1000 hours in our first 11 days of flying.  Just to give you a sense of what that means, at Fort Campbell in a typical year we would fly around 5500 hours.  The unit we replaced flew over 16,000 hours in 10 months.  The FSC has been working equally hard providing fuel to Task Force Thunder…the entire aviation brigade.  Most all of the sections have been into 24-hour operations since 8 November.  D Company and all of
the Line company crew chiefs have done a phenomenal job with aircraft
maintenance.  The bulk of our maintenance efforts take place at night
because the majority of our missions
News
are flown during the day.  It's incredible to walk down to the HAS (hardened aircraft shelter…our "hangar") at night and watch ours Soldiers work magic.  The staff is equally busy keeping up with the constant changes and demands of taking care of all the Soldiers in the Wings Battalion and they do it with pride and professionalism.  On a separate note, B/2-147 Aviation, our National Guard unit out of Frankfort, Kentucky is due to arrive in country very shortly.  We are all looking forward to their arrival and getting them integrated and into mission sets as quickly as possible.  Your Soldiers continue to amaze me with their ingenuity and flexibility.  A special thanks to the Rear Detachment and the FRG for their hard work.  Having you supporting us from Fort Campbell makes it easy to focus on our mission ahead.  Thanks for all you do everyday. 
       I am truly living the dream.
W06
<![if !vml]>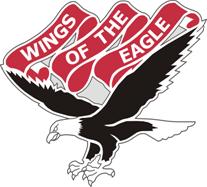 <![endif]>
 <![if !vml]>

<![endif]>
Dear Hawk Assault Family, First off – THANKS FOR THE MAIL!  Everyone who has received a letter or package since arriving here in Balad sends much gratitude (except for those who got nothing but bills). J Good mail is always a pick-me-up and always much appreciated. Well, we've moved in and taken over!  Since last we talked, the company flew out of Kuwait on Air Force C-17s, safely arrived at LSA Anaconda, got settled in our new work and living areas and conducted the Relief in Place and Transfer of Authority (RIP/TOA) with our outgoing counterparts.  HHC/1-189 AVN is on their way home to Montana after a smooth transition and a solid handover.  We've had our share of hurdles to overcome – finding office space for everyone, getting everyone into housing, untangling the tortuous network that the outgoing S6 left to our S6-shop (sorry – no love there J), picking up combat flight and intel operations where the outgoing S2 and S3 shops left off, property transfers, the list goes on and on).  BUT - the point is, we triumphed over all of them!  I share this not to grumble but to recognize the efforts of the Soldiers that you at home are supporting from afar.  Our personnel have performed admirably, in all sections, taking on the monumental task of integrating and then assuming the complex and difficult mission set of this battalion without complaint or shortfall.  Sure, things haven't gone perfectly, but all have persevered and all deserve recognition for their part of this significant accomplishment.  Please be sure, when you talk or write to your Soldier, to tell them you're proud of them and that you're pulling for them.  That alone, does more than you might think to keep up morale and maintain our focus on what's important: accomplishing the mission and coming home safely just as soon as possible! We're finally all settled into our routines and the time is passing quickly.  Hopefully, the same holds true on the home front.  Strange as it may sound, life here at LSA Anaconda isn't all that bad.  We're living in trailers, no more than two to a room.  We have showers and porcelain (anyone who's stayed at a campground and used nothing but port-a-lets for a few days in the middle of August knows what I'm talking about).  There are several PXs, four Dining Facilities that easily trump the one in Kuwait, a movie theater, swimming pools (indoor and outdoor), game rooms, a full size gym and outdoor basketball courts with bleachers and stadium lighting.  We truly can't complain.  Since getting settled and kicking operations into high gear, the count down to re-deployment has finally begin.  Congratulations to PFC Kurt Keller, PFC Kendrick Robinson, PFC Tia Snow and PFC Adam Walter promoted with an effective date of 1 NOV 05 to Private First Class.  All are performing admirably and their promotion is well deserved! Lastly, I'd like to extend a warm thank you to all for your continued support over the last month and a half.  Your love and encouragement make it possible for us to do what we do.  We miss you greatly.  Remember us in your prayers daily, and we'll be sure to do the same for you. 
      God bless, John Wilson, Hawk 6.
                 "Hawk Assault!" 
                   <![if !vml]>

<![endif]>
         <![if !vml]>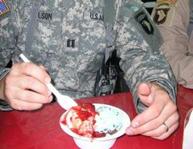 <![endif]>
We like our Baskin Robbins!
<![if !vml]>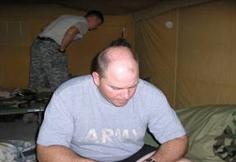 <![endif]>
The First Sergeant – he's definitely happy to be here – can't you tell?
<![if !vml]>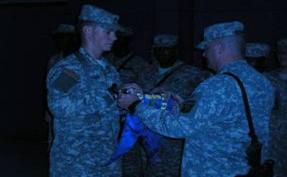 <![endif]> 
Uncasing the Hawk Assault Guidon at the Transfer of Authority Ceremony
<![if !vml]>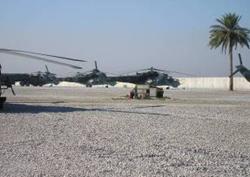 <![endif]>
Iraqi MI-24 Hind attack helicopters in Baghdad.
<![if !vml]>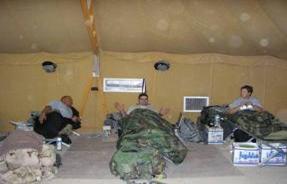 <![endif]>
SGT Camejo, SSG Achord and SSG Sims, S1 Shop – "What?!?"
<![if !vml]>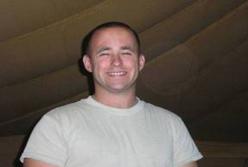 <![endif]>
CPT Jeff Stone, XO – Apparently, he's happy to be here.
<![if !vml]>

<![endif]>

Greetings to the FRG from the Comancheros.  Since the last update from Udairi, Alpha Company has fully arrived and gotten settled into LSA Anaconda (Balad).  We spent about a week watching and participating in operations from A/1-189, a Montana National Guard Unit.  During this time, we had the opportunity to gain some valuable insight into their methods of operation during the past year.  Those guys worked extremely hard to ensure that we were set up for success.
With the handover complete, the Comancheros are up and running and have assumed the full mission load.  We are flying quite a bit, with 6 helicopters in the air almost every day and most missions lasting from 4-6 hours.
As I'm sure you have all heard, the living and working conditions could not be better.  Everyone lives in a trailer and sleeps on beds.  The company command post is located in a trailer as well with an area to plan flights and an area for the crewchiefs and doorgunners to work. 
Our transportation consists of some HMMWVs and trailers which is how we get ourselves and our gear out to the flightline as well as some gators that we use to run around.  The post is split into an Air Force side and an Army side.  We have a nice PX on our side and a Pizza Hut, Burger King, and Barber Shop are due to open up shortly.  The food in the chow hall is even better than Camp Buerhing, Kuwait and every Thursday night we have a Mongolian BBQ night that is pretty good.
Our mission is to transport mainly VIPs and important personnel all over the country.  We see new parts of the country almost every day.   The working conditions are much better for the pilots, as we have enough computers and support to properly plan flights.  It's absolutely amazing.  The crewchiefs are receiving lots of maintenance support from D Company.  It's not perfect support yet, but it's getting there.  The crewchiefs just don't have enough time in their day to conduct all of the maintenance required on their assigned aircraft. 
It seems hard to believe that we have been gone for an entire month already.  I can't say enough how much the support from back home means to all the guys.  The mail system is up and running and letters and packages have been flowing in left and right.  We so greatly appreciate all that you do back home for us and please let me know if there is anything that I or the rest of the Comancheros over here can do for you.  We wish you all the best as you roll into the Thanksgiving Holiday.  More pictures of the guys to follow next month.  Best Wishes and take care.
CPT Brian Ward
1SG Migelangelo Salinas
"Shoot 'em in the Face."
<![if !vml]>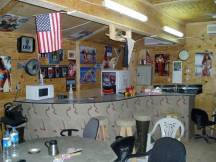 <![endif]>
<![if !vml]>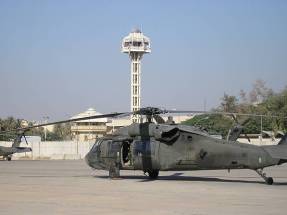 <![endif]>
<![if !vml]>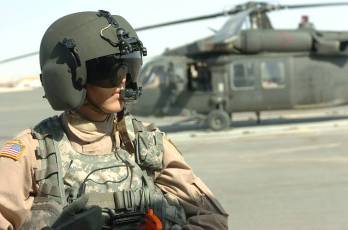 <![endif]>One of 4th Battalion's Blackhawks supporting operations in and around Baghdad.
<![if !vml]> <![endif]>
<![if !vml]>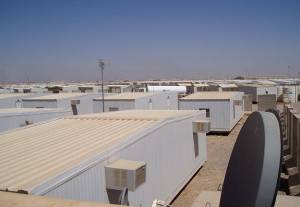 <![endif]>
          <![if !vml]>

<![endif]>       <![if !vml]>

<![endif]>
Comments from the Commander:
Dear Friends and Family of the Kingsmen,
      Greetings from LSA Anaconda, our home for the foreseeable future.  It hasn't been easy getting everyone into their homes, but everyone has a bed to sleep in and a roof over their head now.  It's been an interesting few weeks of difficult missions without hot water or electricity for a couple days, but as they always have in tough situations, the Kingsmen made it through. 
      Despite some early frustrations, life here is pretty good.  Once we moved into housing, most of the guys were able to get their hands on TVs, microwaves, refrigerators, and even bikes.  Soon, everyone will have the chance to put internet into their own room if they wish, so you should be hearing from your soldier more often.  But, as good as things might sound here, there's no place like home and we miss you all very much.
      Now that we have assumed the mission here, time seems to be passing quickly for all of us.  The crew chiefs and door gunners have been working tirelessly, day and night, to ensure that the aircraft are mission capable each day.  Thanks to their hard work, B Company has the highest mission capable readiness rate in the battalion thus far.  Our maintenance test pilots have carried the load of the entire battalion's aircraft, assisting other company's with their maintenance requirements after ours are met.  Their selfless service has helped make our unit's mission more successful than any.   Our pilots continue to plan and execute missions with precision and class, well above the standard.  Our instructor pilots have trained us well and we all feel confident that we can perform this mission without fail and return home to you, safe and sound. 
      Attached are some pictures of our home, our work area, and the guys.  I hope you enjoy them.  We are working out some technical difficulties with the website, but will be updating them more often beginning today.  Thanks for your understanding.
      Just like you, I am extremely proud of the men and women in this unit and their conduct throughout this very challenging time of transition.  Now that we have taken over the mission here in Iraq, I have no doubt that the Kingsmen will continue their tradition of excellence.   At home, we ask that you please keep PFC Aaron Crocker and his wife Shannon in your thoughts and prayers as the continue to deal with a difficult pregnancy, as well as SSG Jerry Simmons who is in Landstuhl, Germany recovering from a non-combat related injury. 
Sincerely,                                                                                                               CPT Mike "Jethro" Stull
             <![if !vml]>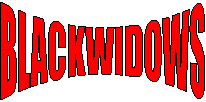 <![endif]>
Blackwidow family, hello from BALAD!  Since our arrival a couple of weeks ago, we have been busy getting settled in and learning about our mission.  We did a transition with C/1-189 AVN from the Arizona National Guard, an impressive company.  They had been here in Balad flying these same missions since January and have racked up a remarkable amount of flight time, of course something the Blackwidows will try and beat!  During the transition time several things were a challenge (both companies using the same vehicles, some of our Soldiers not in housing but rather in transient tents across the airfield, etc), but all of our company remained upbeat and welcomed the challenge. 
I have been so impressed with everyone in this company.  Several of the crew chiefs have really stepped up to the plate and are giving their all every single day.  They are the most worked as they work 14 hour days while flying, conducting maintenance and dealing with the aircraft computers!  In spite of all that they deal with, they have great attitudes, the morale is high and they continue to come in the next day and work even harder.  The pilots are also continuing to impress me.  They are flexible and move to different aircraft quickly when maintenance is needed, and constantly strive to complete the mission above standard, while also making the company run more efficiently. 
Some exciting news from here:  SPC Kristopher Ahrens was officially promoted to SGT on 1 December.  Unfortunately, we have not had an official pinning, but when we do, expect to see some great pictures of that event!  CPL Michael Garvey reenlisted for six years with a school option and the deployment bonus.  This is great news for the company, as he is a Flight Instructor and has been with 4th Battalion for a long time and we are excited to see him stay and continue to grow in the company.  CW2 Lori Lingg reenlisted CPL Garvey (see the pictures here). 
Some exciting news from home:  SPC Jason Nichols and his wife Cathy delivered their baby boy, Kayden, on 10 November after about ten hours of labor.  He weighed seven pounds was 21 inches long.  Cathy is still recovering from the delivery and Jason has been helping out with the help of their families.  SPC Nichols will deploy here sometime in late December and we really need his help!  Congratulations to the Nichols family! 
I know the communication between home and here is much better this deployment, which makes the time pass by quicker.  The Soldiers and officers all love the packages and letters they have received from you all.  Thank you for your constant support of this company and all that you do at home to keep things running there.  You are the backbone of all of us and without your support; things here would be much harder!  We look forward to more interaction between home and here soon. 
SSG Valencia has added some content to our website on AKO, so if you have an AKO account and want to be added to read the content, please send us the addresses.  You can send
them to me at melissa.a.jones@us.army.mil
or to the FRG Leader, Mrs. Kim Stewart at skstewart@charter.net. 
I hope you all have a wonderful and fulfilling Thanksgiving.  The Blackwidows are thankful this year that you are such a loving family to us.  Hopefully we can get some good pictures on Turkey Day to send home to you!  Until next time…     
"Mate & Kill!"
CPT Melissa A. Jones, CDR
SFC Scott Brown, 1SG
<![if !vml]>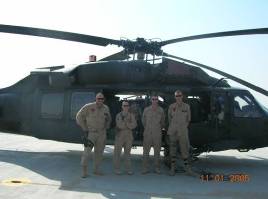 <![endif]>
<![if !vml]>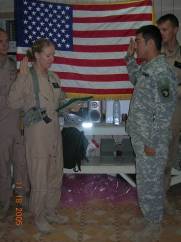 <![endif]>
<![if !vml]>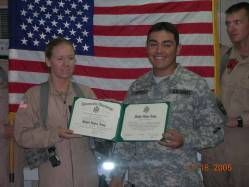 <![endif]>
<![if !vml]>

<![endif]>A lot has happened in the last month, and it's hard to believe it's only going to get busier next month. 
As I write this letter, the battalion has flown just over 1,000 hours in its first month here in theater. This amount is expected to nearly double next month.
It goes without saying that your soldiers are digging in and working out the transition kinks. They are the ones responsible for making this the smoothest running maintenance operation on this side of the world.
Since the last newsletter, the Desperados have transitioned from Kuwait to our permanent duty location in Balad, Iraq.
We loaded our bags into a connex truck followed by a grueling two hour bus ride to an airbase in Kuwait. Upon arrival, we hung out in a holding tent and played cards until our C-130 arrived.
While most of us listened to SSG Mihalko's continuous trash talk about how awesome he is, others watched movies or read magazines during our four hour wait for the plane. You gotta love the Air Force!
The C-130 ride to Balad was less than comfortable. Everyone was happy to finally arrive at our destination and begin settling into life on LSA Anaconda. After our safe arrival, we began the duffel bag drag to find that cozy trailer we will call home for the next 11 months.
The trailers are a nice change from the open bays we had at Camp Buehring. Everyone seems to think the dining facility is better, as well. Even the showers are warmer!
It took some time, but everyone is finally settled into their trailer and is shifting focus toward the busy year of maintenance ahead for the              Desperados.
Our first priority of business was getting moved into our hanger. There was an enormous mess to organize prior to move-in.
It was almost like someone had abandoned a yard sale. The company's clean up and move in is going quite well. We are slowly taking the Sanford out of "Sanford and Son."
The maintenance platoon set up its new SPAM (Shop Set Air Mobile), and is in the process of moving the tool room into this "bigger and better" shop space. 
The shops platoon has moved into its offices inside the hanger and is almost fully set up now. 
1SG Paul had a blast with the fork lift earlier this week, moving all the milvans and concrete barriers around. He's creating quite a "Fortress Desperado" at the hanger.
<![if !vml]>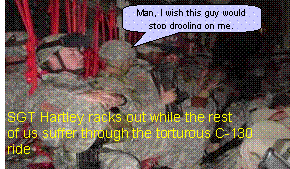 <![endif]>
While 1SG Paul continues adjusting the layout of Fortress Desperado, tech supply is constructing a parts storage yard. Aside from the continuous onslaught of maintenance, next on the agenda is repainting the hangar to accentuate our Desperado dazzle. 
  Our first month in support of OIF 05-07 has unfolded rapidly and made the month pass quickly. Thanks to our soldiers and the support they receive from home, our deployment is on track to be a great success!
<![if !vml]> <![endif]>
Thanks for the support!
Desperado 06<![if !vml]> <![endif]><![if !vml]>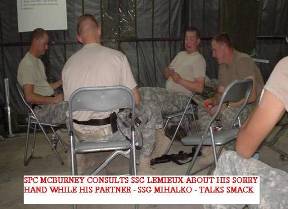 <![endif]>
<![if !vml]>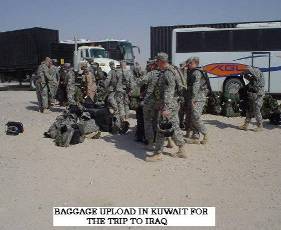 <![endif]>
<![if !vml]>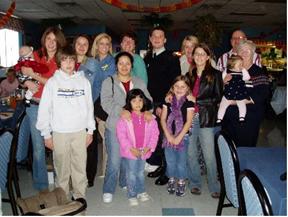 <![endif]><![if !vml]>

<![endif]>
At Fort Campbell…our Thanksgiving DFAC Crowd…
<![if !vml]>

<![endif]>
COMMANDERS CORNER:
      Dear FSC "Workhorse" families,
The month of November has come and went like a flash, which is very good news indeed.  It is hard to believe another hectic month has passed us by.  Hopefully, the coming months will continue to pass us by just as quickly, and if they remain as action packed as this month I am sure they will.  November has seen the company fly out of Kuwait on a C-17, safely arrive on LSA Anaconda, get settled into our new work and living areas, and then take over the mission from HHC 1-189th AVN regiment.   Fortunately, our relief in place with HHC 1-189th AVN has allowed us to finally get into the routines that we will maintain throughout our stay in Iraq, helping to make the days pass by a lot quicker. With all things considered, life on LSA Anaconda is not really too bad.  We have about all the amenities that one could ask for: we are all living in trailers, we can take showers every day, and we have actual rest rooms, multiple PXs, several different types of fast food restaurants, a movie theatre, swimming pools, and a very nice DFAC.  And the fact that we are all getting paid a little more and living for free only sweetens the pot.  This deployment has really kicked into high gear, and the countdown to re-deployment can truly begin.  And everyday that passes is one less day that we will be apart from our loved ones. 
I also have a lot of good news to pass along this month.  We promoted several soldiers to the ranks of PFC and SPC, including:  PFC Campbell, Lavonya to SPC, PV2 Trahan, Stephen to PFC, and PV2 Poti, Thomas to PFC.  We were also fortunate to have two very valuable Workhorse members re-enlist this month:  SGT Myers, Kendra and SPC Abreu, Fernando.  All 5 soldiers are well deserving of their promotions and re-enlistments, and will continue to serve this company well.  Promoting and re-enlisting soldiers is by far the most rewarding part of being a commander.  I truly enjoy seeing my soldiers advance along the ranks and extend their valuable service to this great nation.
Finally, I want to extend thanks for all the continued support Workhorse families have given me and their loved ones over the first month and a half of this deployment.  Without the families back home supporting us, we would not have the will to do what we are.  Just knowing that you are all back home waiting for us to return gives us the energy to make it through every day.  We miss you all dearly.  Continue to keep us in your thoughts and prayers.
Respectfully
Jason E. Ison
"Strong Families make Strong Soldiers!"
  <![if !vml]>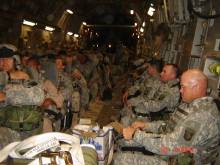 <![endif]>
  FSC on the C-17 Flight to Balad
<![if !vml]>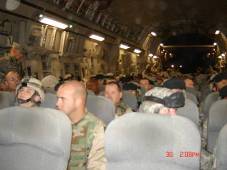 <![endif]>
FSC on the C-17 Flight to Balad
<![if !vml]>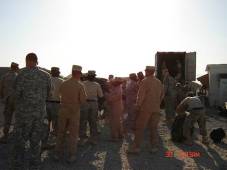 <![endif]>
Baggage download @ Ali Al Salem
<![if !vml]>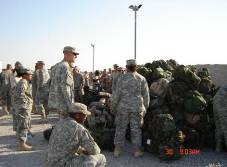 <![endif]>
Baggage download @ Ali Al Salem
Awards - Promotions -                         Re-enlistment
     -  PFC Campbell was promoted to SPC on               
        6 NOV
     -  PV2 Poti was promoted PFC on 6 NOV
     -  PV2 Trahan was promoted to PFC on 6 
        NOV
     -  SGT Myers re-enlisted on 6 NOV
     -  SPC Abreu re-enlisted on ll NOV
<![if !vml]>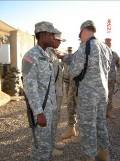 <![endif]>     <![if !vml]>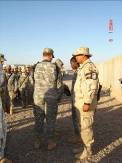 <![endif]>SPC Campbell's and PFC Poti's
promotion.                                
<![if !vml]>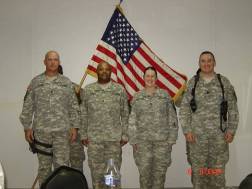 <![endif]>
SGT Myers re-enlistment 6 NOV 05
<![if !vml]>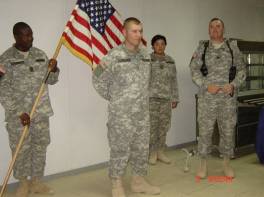 <![endif]>
PFC Trahan's promotion 6 NOV 05
         <![if !vml]>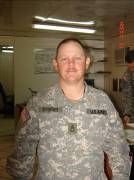 <![endif]>
 SFC Guisinger, Stillman – 5 Nov
                       <![if !vml]>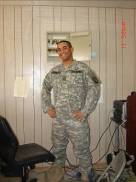 <![endif]>
               PV2 Vazquez, Albert – 7 Nov
<![if !vml]>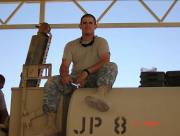 <![endif]>
PFC Helberg, Stephen – 11 Nov
<![if !vml]>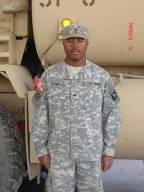 <![endif]>
 SGT Daniels, Derek – 24 Nov
<![if !vml]>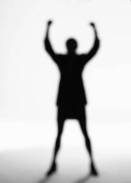 <![endif]>
PV2 Chambers, Marquis – 12 Nov
<![if !vml]>

<![endif]>
Wings of the Eagle Soldiers, Families and Friends,
November was a busy month for us.  We have successfully integrated new Soldiers into the Rear Detachment and begun to deploy Soldiers and equipment forward into the fight. 
The month started off with a solemn reminder that freedom is not always free.  The Division held its first Eagle Remembrance Ceremony in which nine fallen Soldiers from the 101st were honored.  It was a dignified time, and a time to reflect on the lives of these warriors.  Our thoughts and prayers will remain with their families.
We have good news too… congratulations are in order for 1LT Mangiaracina, SPC Koelliker, SPC Clemons, and SPC Nichols who welcomed new babies into their families.  I know they look forward to some sleepless nights before they deploy.
SFC Easton has been busy in the motorpool preparing vehicles for lateral transfer and turn in to the RECAP Program.  The battalion and motorpool also survived the first Command Inspection Program Inspection from Division.  We have a lot of work ahead of us to ensure we maintain compliance across the board while the battalion is deployed. 
Have a Happy and safe Thanksgiving as the holiday season is about to kick off.  One Team One Fight!
CPT Mike Clark Rear 06
1SG Timothy Bridges Rear 07
<![if !vml]>

<![endif]>
     <![if !vml]>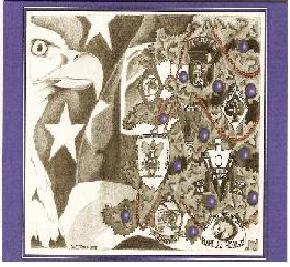 <![endif]>    
     The picture above does not do     justice to the fabulous card art drawn for the Wings Battalion by CW2 P.J. Pittman of B/2-147 Aviation. The actual card is a very detailed, clear pencil drawing that proudly shows all of the Wings' companies on a Christmas tree. CW2 Pittman drew the card for us while training at Lakehurst, New    Jersey with his Frankfort, Kentucky National Guard Company before joining 4th Battalion for the deployment.  Like many of our soldiers, this is CW2 Pittman's second tour to Iraq.  He and the rest of the Renegades are currently in Kuwait gearing up to join the Wings Battalion. If you would like to purchase a package of the unit Christmas cards, ask your company FRG Leader for details.  Many thanks to those who shared Thanksgiving with us in the DFAC this week…You helped make my holiday a little brighter! 
          I am thankful for all of you!
                        Judy Fish