Article from Stars and Stripes about Warrior 22
Warrior 22 is Joe Thibodeaux, 65/66
Fighter Rescued in 9 Minutes After Mayday
SOC TRANG, Vietnam (IO) -  "Mayday, Mayday, Mayday, this is Silver 11 on fire 10 miles west of Soc Trang – I'm ejecting."  These words transmitted on UHF guard frequency early one morning last week stopped all other UHF transmissions in the area. 
Pilots turned up the volume knob on their radios to find out if they could help
From the alert call to the rescue that was made only nine minutes elapsed! 
Immediately following the mayday alert came the voice of Capt. Raymond Walker over the air with, "Soc Trang Tower, This is Beaver 24, request you direct and helicopters in the area to a point about 20 miles west of Soc Trang were a jet pilot has just ejected."
Lt. Gary Nelson of A Company 101st Aviation Bn had just taken off from the field in his huey when the alert came.  Even as he turned west and pulled in maximum power he called, "Soc Trang, Warrior 22 is in route at this time – Break – Beaver 24, this is Warrior 22, I'm inbound your location request move to (?? can't read this??) directions.
"Warrior 22, this is Beaver 24 the pilot is landing three miles Southeast of the outpost I can see the crash site two miles directly ahead." 
The transmission continued rapidly:  "Warrior 22, this is Silver 12 (another jet circling over pilot) proceed from the crash site five miles on a heading of 210 degrees."
"This is Warrior 22. Roger."
"Warrior 22, this is Viking 23 (CWO Foster Fort in a armed Huey of the 121st Aviation Co.) I'm inbound, 3 miles northeast of the crash site. If you will orbit when you reach the downed pilots location, I'll make a quick reconnaissance of the area and escort you in."
"Roger Viking, glad to have you around."
There was a short pause while the two hueys proceeded inbound during this time.  Walker in his O-1 bird dog was circling the area, ready to call in the other two jets if needed to (?? can't read this??) any Viet Cong, which might be in the area.
The two F-100 super (?? can't read this?) circling over head, made up the rest of the strike element from the (16th ?) tactical  Sq. that  forward air controller Walker had been directing into Viet Cong emplacements. Silver 11 had been hit by automatic weapons fire during one of the firing runs.
Shortly after Warrior 22 started orbiting, Viking entered the area low level.
"Viking 23 this is Beaver 24, I have liked over the entire area and have seen no enemy activity."
"Roger, 24. . . Warrior 22 descend parallel and south of the east-west canal, landing heading will be 090 degrees."
"Roger, 23, I'm coming in."
As Nelson and WO Garlitz landed 50 feet from the parachute, the Air Force pilot, Capt. Bob Oaks, Came running towards them.
"He jumped in and started pumping our hands. He was glad to see us, to say the least."
Meanwhile crew chief Barry Davidson and gunner Alfred Woods had raced over to the parachute, gathered it up, and returned to the aircraft.
Takeoff, which was made immediately with Viking 23 escorting, was uneventful. Even as Warrior 22 climbed out heading for Soc Trang, a light fire team from the Thunderbirds, the armed platoon of A Co., 101 Aviation Bn., was searching the jet crash site, making sure nothing was left that would be of value to the Viet Cong.
<![if !supportEmptyParas]> <![endif]><![if !supportEmptyParas]> <![endif]><![if !supportEmptyParas]> <![endif]>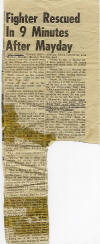 <![if !supportEmptyParas]> <![endif]>
<![if !supportEmptyParas]> <![endif]>
<![if !supportEmptyParas]> <![endif]>