SOC TRANG, SOUTH VIETNAM
HOME TO THE: TIGERS, VIKINGS, RED DEVILS, WARRIORS AND THUNDERBIRDS
BY JAMES W. RICKARD JULY 12, 1965
Down in the Delta,
Soc Trang Airfield is the place,
where we are doomed to spend our time,
in the land of disgrace.
Down with the snakes and lizards,
down where the soldier is always blue,
down in the middle of nowhere,
and a million miles from you.
We sweat, worry and shiver,
it's more than a man can stand,
we're not supposed to be convicts,
just defenders of our land.
Down in the heart of the delta,
where the Viet Cong hit by night,
they run for cover in their hamlets,
and become rice farmers by light.
We are men of the U. S. Army,
just earning our monthly pay,
guarding our beloved country,
for only three and a half a day.
No one knows we are living,
no one gives a damn,
For at home we are forgotten,
we belong to Uncle Sam.
The time we spend in Vietnam,
is part of our lives we missed
fellows don't let your draft board get you
and for God's sake don't enlist.
But when life is over,
and St. Peter rings the bell,
He'll say, "Come on in you men from Soc Trang,
you've spent your time in Hell."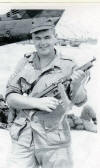 James W. Rickard, Soc Trang May 1965
James W. Rickard and wife, Snowbird Reunion 2005
Scans of the handwritten original poem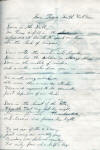 page one

page two © July 12, 1965 James W. Rickard
All rights reserved. Revised: 02/21/05.