Wings of the Eagle Families,
It's hard to believe it's actually December and Christmas is literally right around the corner.  There are Christmas trees and decorations appearing all around the battalion area.  We welcomed the B/2-147 Renegades to the battalion on 1 Dec.  They've been working hard to finish up their right and left seat rides and have assumed mission in the last couple of days.  We are now officially known as Task Force Wings (TF Wings) with the addition of the Renegades to our formations.
Your Soldiers continue their great work here in Iraq.  Our focus over the last several weeks has been not only general support aviation, but election support as well.  The flight companies have been integral to the movement of election officials and monitors all over the country.  Much of the election success is due directly to the great support provided by TF Wings.  Recently, we had the opportunity to recognize our newest combat veterans by conducting a Combat Patch ceremony. It was a great event.  The majority of the Soldiers in the battalion participated in the ceremony and afterwards we conducted a little photo opportunity.  I've enclosed our "group" photo for your enjoyment.  The operational tempo continues: we're flying, fueling and fixing at an incredible pace.  In fact, we lead the brigade in hours flown, passengers hauled, fuel pumped and aircraft/ground maintenance… every Soldier in the TF should be proud.
A special thanks to the Rear Detachment and the FRGs.  All of the packages remind us that home truly is a special place…especially at this time of year.  The goody's and ornaments that you have sent keep us connected to you (and frankly make us do more PT).  Thanks again for all you do everyday.  Judy and I want to wish you all a Merry Christmas and a Happy New Year.
W06
<![if !vml]>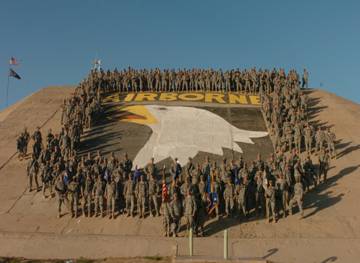 <![endif]>